Our spotlight series dives into some of our favourite titles released in previous years. Here, we share a glimpse into the first pages of SUMMER SPIRIT, as well as reconnecting with the author to discover how they feel about the book now, and what they've been up to since the book's release.
Summer for Louise means sand, surf, and… the supernatural. Louise spends every summer at her grandma's house with her older sister, cousins, and Rodin the dog. But, this year, her plans to relax and read comics on the beach are about to be turned upside down by a mischievous ghost, bored with being forced to haunt the same house. While the other girls are wrapped up in romance and teenage problems, Louise takes refuge with her new paranormal BFF, determined to escape the drama and just enjoy her summer break, something that is proving to be a lot harder than she anticipated…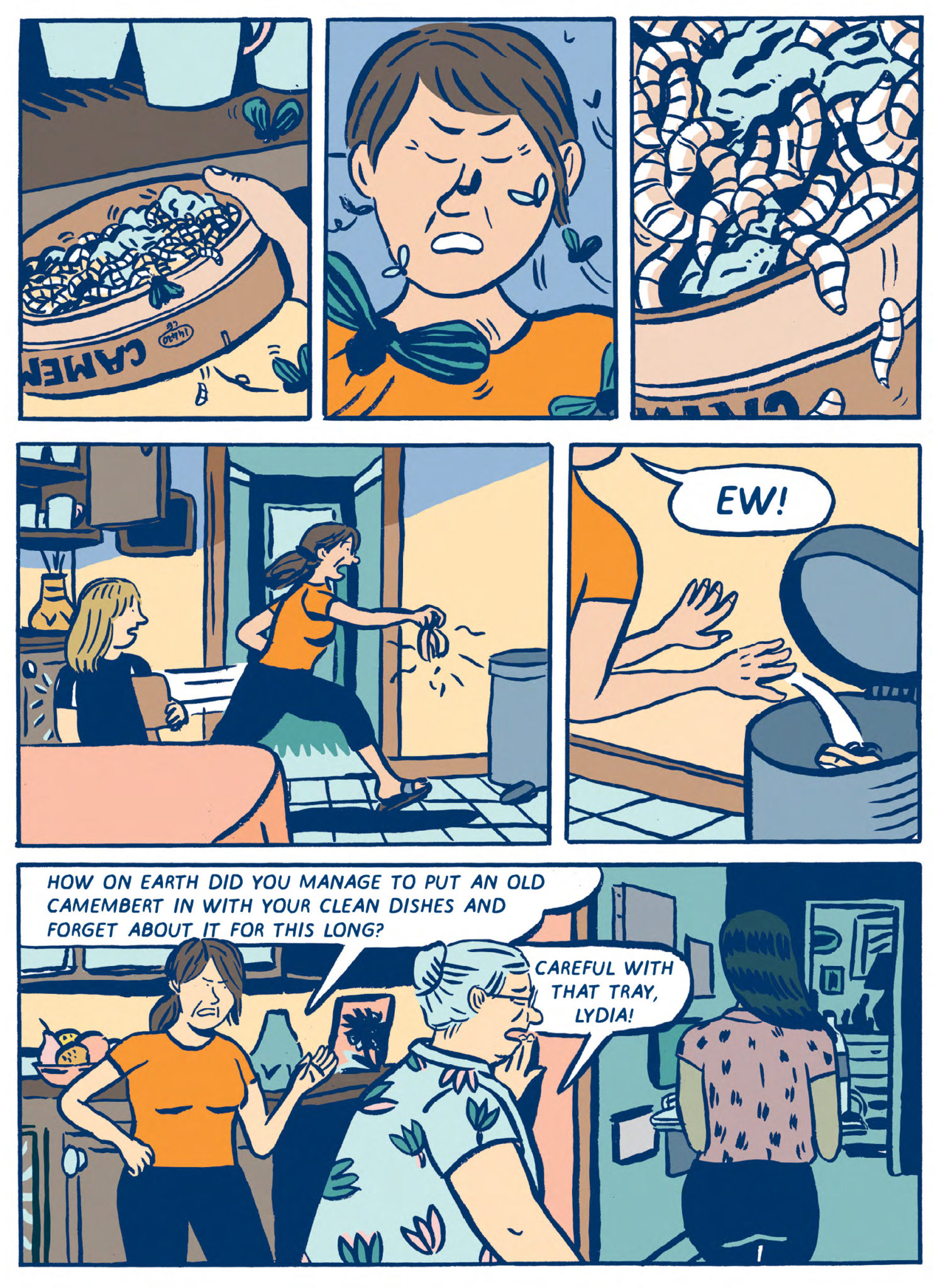 Originally published in French as L'Été Fantôme by Elizabeth Holleville. Translation by Amy Evans-Hill.
Text and illustrations © Editions Glénat 2018
---
Nobrow: Where did the inspiration for Summer Spirit come from?
Elizabeth Holleville: The idea for the book came from autobiographical events – it was a mix of my story and my cousins, and my experience as the youngest among the cousins and being a bit isolated because of it. I found this nice picture of me from this time (see below) at the house where the book is based.
I had thought my cousins were all becoming a bit silly while they were growing up, and it made me think that it would be interesting to mix it with a ghost story, because ghosts sit outside of time. They don't move in time like our bodies, so I thought it would be interesting to make this encounter between a young girl who is at the frontier of becoming a woman, and a ghost that never became one.
N: What was your life like when creating the book?
EH: So when I was writing it, I was a student working elementary jobs – I started to make it for my own pleasure but without a contract with a publisher. So, it was my first comic published with a big publisher. I was in a 'Summer Spirit' mood, because it was the summer and I started to remember all these feelings from my youth. From 10 pages in, it appeared to be a really long project. It started that summer because I was working with children – in France in the summer there is no work with them because the school is closed, so I had time to make this project. And I'm a huge fan of fantasies and horror movies and everything like that, so I found it like a game to play with the worst figures in my stories.
N: Can you tell us a bit more about how things have changed for you now? Have you worked on more projects since Summer Spirit?
EH: I've made a second book which was published in the beginning of this year, called Immonde! – which translated to like 'gross' or 'disgusting'. It's a story of a teenager, older than the character in Summer Spirit because they are in the last year of high school, and they are beginning to have questions with politics and the little city they live in. There is a big company which is extracting something through the floor, and it becomes apparent that they are actually extracting monsters that are going to surround their city.
N: Looking back, what was your favourite part of making the book?
EH: My favourite part was colouring, because I really loved finding colours that can work according to the story. I chose to have colours that are part of the narrative themselves, which is why there is a lot of blue. The inking was originally black, and I put it into a really deep blue on the computer and I tried to make some colours that are nostalgic and really soft so you have a feeling of the past. And after when I worked on Immonde!, I chose colours that represent acid and that evoked pollution. I loved it when I started to see the colour as a narrative device in my comics.
N: How do you feel about the book now in 2022?
EH: I find it weird because when you look at a project that you made several years ago, you get the feeling that it was someone else who did it! Because you have evolved. But in the meantime, I have no shame. I see it as a part of my life, as a milestone. It's cool because when I'm old, I will be able to look back on each of those milestones, too. 
N: Who or what make up your influences for Summer Spirit?
EH: I'm really influenced the books of R.L Stine. I have the entire collection! When I moved out, my mother put them all in the garbage and it was a huge drama when I came back and I asked where they were! This was an influence for the fantasy elements – as well as things like X-Files and Tales From the Crypt.
As for graphic novel influences, I'm really inspired by American comics and comic artists Daniel Clowes and Charles Burns. But I was also inspired by Debbie Dreschler – I really loved her book called Summer of Love. It's really beautiful and it inspired me, I would recommend it.
N: What advice would you give to aspiring comic / graphic novel creators?
EH: I would advise them to start with a memory or a feeling. That's how I started to write Summer Spirit, and it means you can start from a real base and imagine stuff after – I personally find it easy to start with something that exists and feelings that you know well. But my work is really like autofiction!
If you start with a memory, storyboard it without thinking about the beauty of the drawings. It's more important to tell a story. With comics, what is cool is you can have simple drawings and if the story is cool, it's not so important. Of course, it's important to have good illustrations, but if you are a good storyteller you can work with someone else to draw your story. There are lots of people who can draw well but don't have a good idea for a story – that's OK. What is most important is to find what you are good at, develop it, and work on it – because it is a lot of work!
Summer Spirit
Elizabeth Holleville
Enter the dreamy world of Elizabeth Holleville's graphic novel for a supernatural coming-of-age story, woven together with the threads of family, young love, and the tricky territory that comes with being a teenage girl.