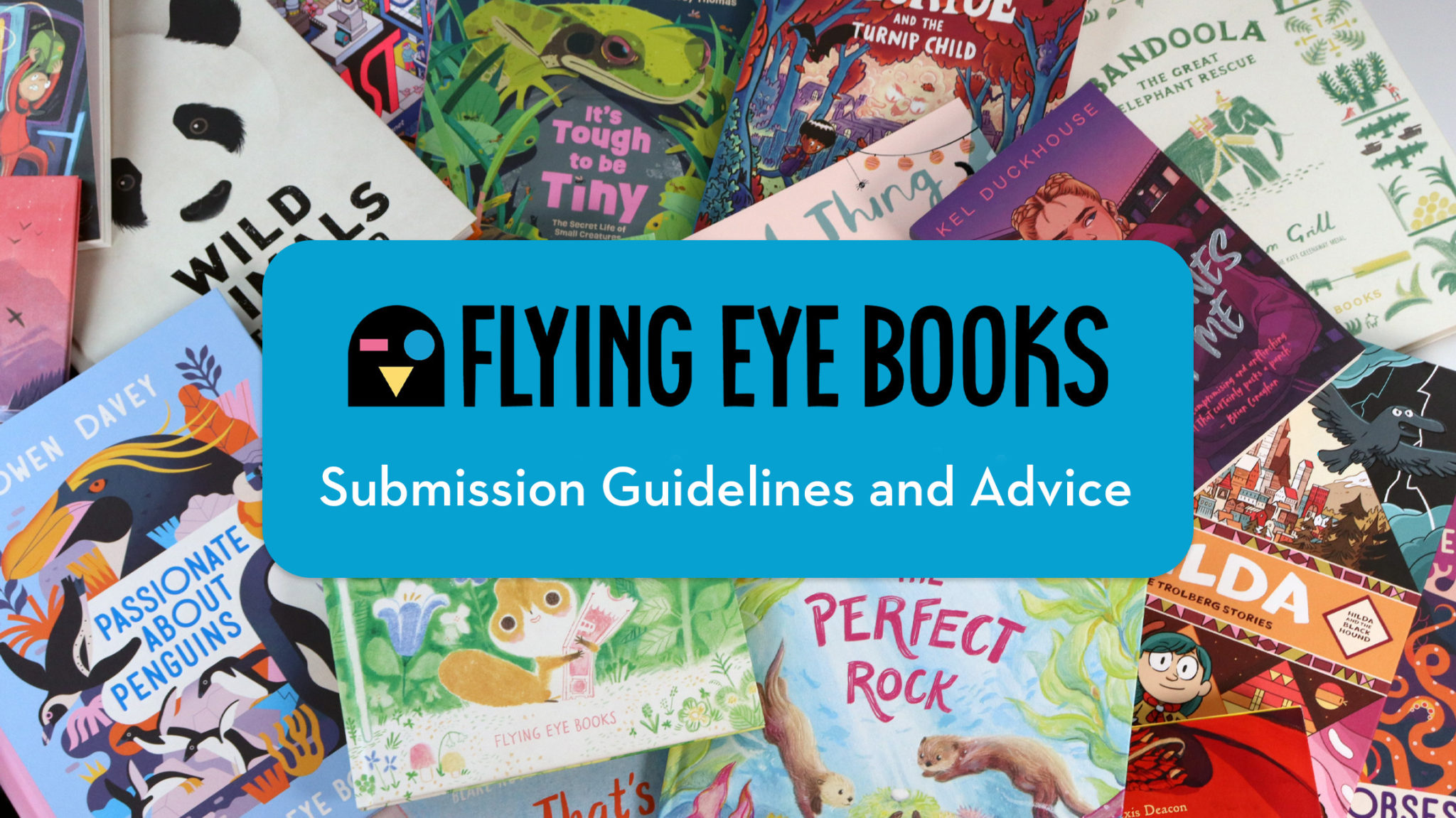 We have asked our Co-Founder and Creative Director Sam Arthur to provide some advice for those of you considering making a submission.
🌟 At Flying Eye we are always on the lookout for fresh and unique stories and we believe that they can come from anywhere. While we cherish our existing creators, we eagerly welcome new talent too. If you're considering submitting your project to us, read on for some helpful advice!
📚 What We're Looking For
Picture Books – We are looking for picture books which feature stories aimed at children of 3-5 years. Aim for 32-page books with 12 spreads or 40-page books with 16 spreads. These formats work best for us. If your book does not correspond to either of these formats we might not be the right publisher for you.
Picture Book Manuscripts – If you are an author/ illustrator submitting a picture book we would like to see a PDF manuscript which shows each spread of your story, text and image together. We would like to see the whole book in draft sketch with a minimum of three finished spreads, so we can determine the look of the intended final art style.
Comics/Graphic Novels ­– We are interested in publishing comics, graphic readers and graphic novels for the following age groups: 4-6, 6-9, 9-12, 13+ and Young Adult.Remember no explicit adult content, please.
Comics/Graphic Reader Manuscripts – For longer format books such as a comic, graphic novel or young illustrated fiction/graphic reader, show us at least 10 draft spreads with at least 3 spreads in the final art style. A short synopsis of the entire story is essential, and don't shy away from spoilers!
Non-fiction Books – Our non-fiction titles are usually commissioned internally, but if you have an expertise and a concept, we are always open to hearing from you. We are also very keen to work with illustrators with an interest in children's nonfiction, so if this is you, please send us a link to your work.
Rhyming texts – We receive many rhyming texts, but we're more interested in well-crafted non-rhyming stories with commercial potential. Narrative-led stories work best for us.
Literary Texts – We don't publish literary prose, and are not looking for novels. We only publish illustrated books for children and young adults – if your book is anything other; it will not be considered.
Author/Illustrators – We are especially interested in storytellers that create their own stories and their own illustrations. Our notable creators such as Luke Pearson, Joe Todd Stanton, Francesca Sanna, Emily Hughes (to name a few) are examples of those who excel in both areas.
Illustration Only Submissions – If you are an illustrator but do not have a text, all is not lost! You can submit a portfolio PDF or a link to your work online. Many of our non-fiction books are with illustrators who do not work on the text.
Text Only Submissions – We're more likely to seek non-fiction texts from writers that we can pair with an illustrator. For fiction texts, we prefer to hear from author/illustrators, but we have made exceptions for exceptional works.
💌 The Submissions Process
If We Are Interested – When we think something has potential we will get in touch via email. However, in order to get something to contract stage it must still go through various internal selection processes. It is very rare that we receive something via submissions that is 100% ready to be contracted. So please be prepared to adapt things, make changes and develop areas of your project. Every one of our books is a collaboration.
Response Time – We are a small team, so it is impossible to respond to everyone who makes a submission. If you have not heard anything from us after 6 weeks of making a submission you can safely assume we are not interested in your project. Whatever the outcome we appreciate your interest in working with us!
PDF is Best – PDF is the preferred file/document format. Please submit one single document for your manuscript and one single document for any supporting info. Keep it simple and try to keep your files as small as you can; anything over 5mb should not be sent as an attachment.
No Physical Submissions – We only accept submissions via email rather than a physical copy. An electronic file is much easier for us to analyse, so please don't send us anything in the snail-mail.
📎 Tips For Submission
Include a short bio (max 100 words) about yourself and your background.
Share a brief cover letter (max 100 words) explaining your choice to tell this particular story and any interesting backstory.
Familiarise yourself with our publishing and existing books. Ensure your work aligns with our style and themes.
Mention any comparable titles that have been published to give us an idea of your book's potential market.
Keep your submission concise and easy to understand—clarity and entertainment are key to success!
📧 When you're ready, please submit your work to these respective emails:
🚀 We're thrilled to receive your submissions and look forward to collaborating with talented creators like you.
📝 Still feeling unsure? Check out our submissions page for more information.