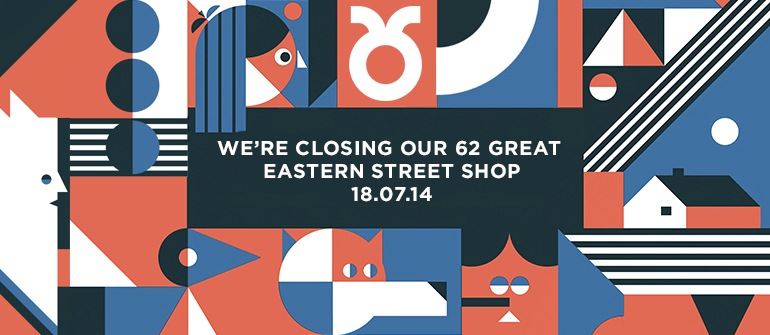 Dear Friends, family, fans, supporters, well-wishers, curious passers-by, haters, lovers, helpers and all others we may have missed, we wanted to let you know that after 3 1/2 years, we are closing the Nobrow bricks & mortar shop at 
62 Great Eastern Street.
Our desire is to focus on our core business, developing and producing the best content in visual publishing. With the increasing growth of our team, we have no choice but to expand the office space and, unfortunately, this is at the expense of the Nobrow Shop.
Nobrow UK will still reside in the same historic premises, but with a significantly larger team – and our books will still be available everywhere that good books are sold. But if you are concerned about getting those rare Nobrow products or back issues, or prints, or objets d'art… don't worry! Our revamped web shop will be launching in September 2014. It will not only continue to serve the thousands of customers it currently does, but it will also offer exciting ranges of new products, reduced shipping costs, promotions, personal accounts, wish-list functions and much more.
For students and educators who have enjoyed the grand tours of our premises over the years, we will still have our ever productive creative studio and are very happy to organise scheduled visits for groups of ten or more people.
The Nobrow physical retail space will close at 7pm on the 18th July 2014. We will be having a big sale of non-Nobrow books from today until that date.
This has been by no means an easy decision to make as the shop has been a great source of pleasure for us over the years as it has provided a home for exciting exhibitions of new talent, book launches, talks and parties. And it is thanks in large part to all of your custom and support that we are able to enter this thrilling new chapter in the history of Nobrow.
OPENING HOURS:
MON-FRI, 10am – 7pm, SAT-SUN, 11am – 6pm except bank holidays UNTIL 7pm, 18th July 2014.
WHERE?
We are situated a stones throw from from Old Street Station, here is a map